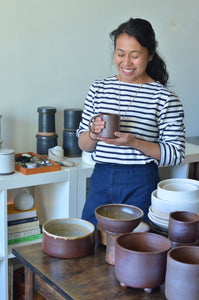 Studio CRL was founded by Chona Reyes in 2017. From her adopted hometown of Athens GA, she creates serving and home wares that are minimal and multifunctional, simple but expressive, special and everyday.
Moving from the Bay Area and stepping away from her career in technology design, Chona set out to explore a more hands-on approach to creating. In the pottery studio Chona uncovered a medium that she finds rich with inspiration—from choosing the clay to shaping the forms to layering the glazes.
A lifelong traveler and longtime collector, Chona pulls from a global sourcebook of styles and approaches, as well as her personal trove of vintage and contemporary earthenware. These influences mingle in her work: intertwining Japanese simplicity and wabi-sabi approach, the purposefulness and multi-functionality of Scandinavian design and American aim of hardworking honesty of materials.